---
---
Historic: Lyons, Colorado
Tourist Information and
Documentary Videos

about the sandstone, geology, and history
of the area surrounding
Lyons, Colorado.
---
---
For Video/DVD Information

Click Here
.
Calendar of Events
Information presented by
Lyons History Video Project
in connection with the Lyons Historical Society
Executive Producer
Project Director
Kathleen Spring
---
---
Lyons, The Double-Gateway to the Rockies
The title "Double Gateway to the Rockies" was given to the town because it is the junction of the North St. Vrain Highway 36 (66) and the South St. Vrain Highway 7 -- either of which will lead tourists to Estes Park and the Rocky Mt. National Park (approximately 30 to 45 minute drive) along exquisite curving mountain roads, often along a clear, rollicking river. It's most recognizable landmark is Steamboat Mt., which overlooks the city from its northwest end. (It resembles a big river steamboat). If Lyons were a movie, it would be a mix of "Mayberry" and "Northern Exposure," with friendly, and sometimes unique people.

Lyons is at 5,374 feet and is located at the foot of several mountains. The 2000 U. S. Census raised the count of residents within the official town limits from 1,585 to 1,915, an increase of 21%. Early history records show visits by Shoshones, Pawnees, Cheyennes and Crow Indians. But the Ute and Arapahoe tribes lived here on and off. One early settler, a few miles outside the town, stated that 700 Indians were living east of his home.

In approximately 1861, the first white settlers came to the valley and began farming, and to a lesser extent, cattle ranching. A few had orginally come to gold mine in the mountains. Some people came for health reasons, as the dry weather helped cure many tuberculous patients. Eventually, in the 1880s, these homesteaders were joined by an influx of hundreds more who came to work in the surrounding sandstone quarries. The Lyons Sandstone hogback that passes through the town begins at the Wyoming border and continues down to approximately Morrison (varying in visibility).

The largest successful companies in town today are the stone yards and quarries, the cement company, and a nationally renowned music concert venue. Lyons Cafe was the longest running business in town. It's owner, Marguerite Peoples, passed away in 2011 at the age of 96. She closed the cafe doors October 1, 2010, exactly 48 years from the day she first opened. The oldest business in town is just outside the town limits: the Loukonen Brothers sandstone quarry business, which is currently being run by third and fourth generation family members. Cattle raising and farming is still evident, within a few miles of the town. The town has all the essentials that locals need, such as grocery stores, pharmacy, doctor and dentist office, and several highly rated restaurants and coffee shops. Tourists enjoy the art and antique shops, and a few quaint lodging facilities. Front Range residents day-trip for the frequent music, art and sports activities.

The small town of Lyons is a fighting town. The people fought and were able to keep its school system, grades K-12. It also fought and prevented the building of a precarious dam. A historic society formed to save the old train depot from being moved out of town. It became the town's community library. They also saved the original 1881 schoolhouse from being torn down. It is now the history museum.

Lyons Sandstone Quarry History Go to page 2 to read about the world famous red sandstone found in Lyons and the family owned quarries, and how the founder of the town, in 1881, Edward S. Lyon, had the foresight to see beyond the cattle and farms.

Lyons Redstone Museum: In 1881 a one-room school house was built, which encouraged new quarry workers to bring their family to Lyons. A second story was added in 1910 to accommodate the growing Town. It was artfully made from the local red sandstone, which is not affected by the weather, like other soft sandstones, because of its weight and density. Initially only the first eight grades were taught there; but the school was modernized in the 1920s; and the first high school children graduated in 1925 with four students.
When two new separate elementary and high school buildings were built in the 1970s, the school district wanted to tear down the 1881 building. The Lyons Historical Society fought to save it, and the old building became the Lyons Redstone Museum. Much of the old school house has been preserved, including the old second story fire escape, signatures of former students on the blackboard, and school graduation photos. It now houses an extensive photograph display of Lyons history, including local buildings and landscapes. Antique homey furniture and equipment fill the rooms. Highlights include a large arrowhead collection, and (electric) glass insulator collection. Also, furniture salvaged from old businesses: old soda fountain booths, and a 25 foot long wood bank teller cage. Further furniture is in the large room where an old parlor and kitchen have been re-created. Representing the sandstone industry are old quarrying tools. Newspaper clippings and old photographs are just a part of its extensive historic and genealogical collection. It's gift shop sells memorabilia, discounted (3,000) used books, Front Range history books, souvenirs, knick-knacks and more. The town has about a dozen books about its history, including fact sheets on pioneer and prominent locals. Other town books are available, and DVD social documentaries and oral histories. It's a really fun place to explore for history buffs. The more time you spend, the more you see ...hidden in the abundance of objects. Yearly, the museum updates a couple of old exhibits, and presents two or more new exhibits. There are also free history talks and a History Community party each summer.
The director, LaVern Johnson has been a crusader for the Town over the years, including helping save its school system, preventing a dangerous dam, preserving historical documents, and more. She has brought grant funds to the town to help improve the great park system. LaVern has received numerous honors for her hard work. It is open to the public (free/donation-basis) during the summer months. Ms. Johnson is the head of the Lyons Historical Society, which saved the old school house from being demolished and turned it into the town's historic museum. 303-823-5271 (in winter 823-5925). The Town renamed the restored Meadow Park after her in 2016.
The Train Depot was also saved and turned into a popular quaint library. After the 2013 Flood destroyed much of the depot, the building was restored and turned into Town offices. A much bigger library building was built and opened in July 2019. The Lyons Historical Society was formed to save the depot. There are 15 buildings on the National Historic Register, made out of local sandstone by master stonemasons between 1870 and 1917. A walking tour map is available at the tourist office or the Redstone Museum.
The Town is located in Boulder County, and more facts about the county can be found at: Boulder County .

Lyons Music Scene The town has a big music scene, and it attracts nationally known artists. It includes weekly bar-scene performances, and monthly concets in Wildflower Pavillion. There are concerts, acoustic open-mikes, jazz, community dances, summer in-the-park concerts, square dances, and professional blues and folk performances. The most famous venue is Planet Bluegrass for their outdoor concerts, with the audience sitting on grassy lawns, surrounded by mountains. Oskar Blues and Grill is known for their live professional blues performers, and offers some New Orleans style food in addition to bar food, and renowned craft beers. High Street Concerts, located in a hall, is almost always sold out. Most are listed at in the local newspaper. The Town has presented free Concerts in Park on Thursdays in the summer for several years. A few years ago it erected a moderate-size permanent sandstone slab stage in Sandstone Park for performers to use.

Lyons Arts and Culture:
Several nationally-known artists make the Lyons area their home. From well-known "garden" murder mystery writer Ann Ripley, to sculptor John King, several photographers and poets, Michael D Clark's handmade bamboo fishing poles, and award-winning writer and photojournalist Kathleen Spring. There is a poetry group that meets occassionally, several book clubs, and a monthly Art Trading Cards session. Residents include pottery makers, creative sculptors, stained glass designers, quilters, sandstone engravers, architects, and more. Red Canyon Art on Main Street sells only Colorado artist products. Plus other art, crafts, furniture, and antique stores in town. (The Christmas Bazaar offershandmade art and crafts by local artisians, nothing mass produced or foreign, on the first weekend of December.)
Meet the Artist: The Town offers several ways to "meet the artists," from a group book signing by local authors occassionally at the library, to openings for art displays in local cafes, galleries, and in Town Hall. The first Art Walk began in 2004, "Artique", with opportunities to visit the artists' studios (in May or June) Approximately 50 artists either open up their galleries, or showed their work in town. Sometimes this is offered in the Town's downtown Sandstone Park, instead of artists' homes, or in the board's meeting room, through the Arts and Humanities commission. They put on quarterly art show openings. Occasionally a joint art activity is offered, such as a Sculpture Walk, or a meditation labyrinth. Other shows in grassy areas include the Art in the Park, Farmette art show, and Riverbend Art show.
Community Art Activities/Contributions:
A mural was placed on the wall of the Visitor Center in 2003 that represents the past, present and future of Lyons. It was designed by local artists in cooperation with the local residents' contributions of ideas. In October 2006, a vacated water clarifier (a round cement building) became the next community project. For two years, hundreds of hand-painted 4x4 tiles were being decorated to apply to its sides; local artists guided residents in painting the tiles. In the summer of 2010, volunteer participants began the multi-year process of applying the tiles to the wall in a landscape simile. This included four tall trees, made out of sandstone rocks; and a 180 degree "earth" mosaic; the ten local birds; zodiac symbols; and more. The Clarifier Project was dedicated in 2015. Landscaping is a 2016-19 project.
Sculpture: Several new sandstone sculptures have been added along the roads and in the parks, including engraved Running Bears stones, and giant sandstone eggs. Beginning in 2006, the Town sponsored a large centrally located public sculpture for a one year period. The first one, done by John King and Kristine Smock, was a 5 to 20 foot tall kinetic sculptures that moved in the wind. For two years, there was an annual Sculpture Trail, which involved over a dozen artists creating 35 to 80 pieces that were placed along an imaginary trail. A brochure took the visitor on a "fantasy" journey, explaining or suggesting reasons why you would have come across each piece, or how you could interact with it. Additional sandstone rock sculptures, and other sculptures are added over the years, mainly along Main Street or in Sandstone Park.
The Town does numerous charity events, mainly focusing on foot races and pot-luck fund raisers. And, a Rubber Duck Race down the river for Charity began in 2004 and has taken place sporatically, depending on sponsors. In January, February and/or March there is a Polar Plunge, with all money raised going to charities in town.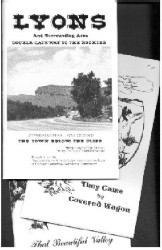 Tourist Info: Where to Go for What.
Food: Check out the Chamber's web page for a list of many of the Town's exceptional restaurants, including gourmet, cafe, bakery, and coffee. The eateries in town are considered to be some of the best for 30 miles around. Chamber of Commerce. The Town also has an extensive web page, which includes information on things like the Fire Department and Town employees. (Note, the web site is updated about once a year, so you should call the Town for more current information).
Places to Eat: People come from miles around to dine in Lyons. There is a small but well-stocked super market, and a health-food market. Visit the St. Vrain Market at the intersection of Hwy. 7 and Hwy. 36 for the biggest selection. Steamboat Mt. Foods on High Street has organic foods and vitamins. Lodging: There is a lovingly-landscaped motel in town, as well as a B&B, and an additional attractive B&B just a few miles north of town, along the river. All are picturesque and well-maintained, with helpful hosts. There are also a few privately owned smaller B&Bs. Shopping: The Chamber issues a Directory listing local businesses, including several well-stocked antiques shops, craft and art stores, wellness businesses, etc. Call for your free Directory. 303-823-5215. Local Activities and News: There are two newspapers serving the Town. For local news, including announcement of fun activities, get the Lyons Recorder (303-823-6625); for entertaining articles and opinions get the news-magazine Redstone Review.

Special Activities: The oldest and most popular is the June "Good Old Days," which sometimes includes some of these activities: kid games, car shows, occasionally live petting zoo and bouncy hall, live music, food booths or trucks, 5-K race, and more. The local museum does an one-hour program on its lawn, honoring pioneer families and more. (The event has been reduced to one day approx. 2015, and is either the last "full weekend" of the June, or the "last Friday" of June). Check the Town web site for the latest information. High School Reunions take place this weekend.
The Town developed a White Water Raft run and conducted contests, which drew people from around the world. This has been expanded into the Outdoor Games (and Burning Can), now including such things as dirt bike challenges. This is usually the first weekend in June. The kayaking competition was considered the third most popular in the country.
Planet Bluegrass has two large annual music festivals, which attract people from all over the world. ("Blues" in July, and "Folk" in August) The very popular three-day festival is set in a natural setting of mountains and a river, with people sitting on blankets and folding chairs.
Square Dancing: since 1958, Lyons has had square dancing. Red Rocks Ramblers always has a large crowd and professional callers, and many people come from 20 Colorado towns and from out of state to experience it. Call 303-823-5925 or lavern921@aol.com manager LaVern Johnson for more details. Takes place on Saturdays between Memorial weekend and Labor Day weekend. It celebrated 60 years in 2018, and is now operating only four times during the summer months, due to the age of its promoters.
Local Favorite Activities:There are several local family activities, like a Halloween costume walk down Main Street; an Easter Egg Hunt; and a Christmas Bazaar with handmade crafts and Fireworks in the Park (1st Saturday in December); and see Good Old Days above. Check the local newspaper for dates.
Kids-at-heart will enjoy the large Pinball Hall (vintage machines); the skateboard park; or, tubing down the river.

Nature Opportunities: The Town has a Park/Trail system open free for public use that extends to even larger hiking trails at nearby Open Space preserves--it borders both the Hall Ranch (12 miles of trails) and Heil Ranch (7 miles of trails) which total 10,000 acres. You'll find great trails for mountain bikes and horseback; but please check the rules for each as they have important wildlife habitats which are protected. Hall Ranch has a trail that goes past an old farmhouse and silo. It is the closest one to Lyons, and it gives you a perspective of the famous red sandstone "in nature." Heil Valley Ranch is newer and gets fewer visitors; it offers three trails (one only for pedestrians) that show off the spectacular mountains and pines. Heil consists of 4,923 acres of backcountry; open to hikers, mountain bikers and equestrians.
Three other Wilderness trails nearby are Rabbit Mtn., Button Rock Preserve, and Lions Gulch. Rabbit Mtn. is off of Hwy. 66, travelling east. It contains over 2,888 acres of backcountry. There are three trails of approximately two miles each. The diverse plant communities range from grasslands to shrublands to forests The views are expansive. Button Rock has a quiet river valley with mainly back country fishing opportunities at the dam reservoir. It is off Hwy. 36 at County Road 80, also called Longmont Dam Road. It has a loop trail. Limited parking; the preserve is beyond the gate, which was installed after the 2013 Flood. The Lion Gulch Trail is west on Hwy. 36, from Lyons. It is a moderate hike ascending down through a often shaded trail in the Roosevelt National Forest. It leads to Homestead Meadows, eight historical 1800s homesteads in partial disarray. The trail is open to hikers, mountain bikers and horseback riders. It is currently the only dog-friendly trail. Read the sign at the trailhead for confirmation.
No dogs are allowed on these trails to help preserve vegetation and maintain wildlife safety. Check with the Tourist Office or Boulder County or town of Longmont for more information. In 2009, sections of the trail were completed that allow for an uninterupted connection between the county parks and the Lyons parks and trails.
Lyons Parks: The award winning trail system includes a walk along the St. Vrain River for approximately a mile. (The Town is 1.5 sq. miles long). The final reconstructed trail opened in 2019, from damages after the Great Flood of 2013. You can start the Lyons Trail at the Visitors Center, and go to Meadow Park, then along the river, dropping down to Bohn Park, and crossing the bridge back, following the old railroad tracks, and crossing Sandstone Park back to the Tourist Office. There is also a trail near Highway 7 that connects to parks in the City of Boulder. (See the Tourist Office for more details).
Meadow Park is bounded on three sides by the North St. Vrain River and by sandstone cliffs. It offers camping and RV parking. It had a eight million dollar reconstruction, after the 2013 Flood, reopening in 2018. It offers fun water and games activities for the family. Parking fees.
Bohn Park is just south of the confluence of the North and South St. Vrain Rivers. This beautiful park was recognized by the Colorado Lottery for creative use of funds. It reopened, after reconstruction, in 2019. It has a ball park, skate board plaza, and free dog park. Plus a trail along the river, which connects to other trails outside the park.
Sandstone Park features a modern Visitors Center, restrooms, and picnic areas. The grassy park is the location of the summer art shows, has a sandstone bandstand for special events, and the Community Summer Concert Series every Thursday, for free.
Note, all the parks mentioned here were extensively damaged during the Great Flood of 2013, but should all be open fully in 2018/2019. Contact the Visitor Center or Town Hall.
Lyons has consistently won Arbor Day "Tree City" designations for its tree planting programs. There is an active volunteer program to plant natural landscapes along the river trails. The downtown streets are planted with a large variety of trees, and a walking map with descriptions of the trees is available at the Visitor Center. A Mountain Botanical Garden is being built, with a loop trail, and signs identifying the trees and plants. There is inexpensive campsites available in shaded meadows, and at the foot of mountains. Call Town Hall for prices and services. 303-823-6622 and register online. And, there is a one-mile Kayak run, with special features. Town Parks are pet-friendly. Fly-fish in wild trout waters (browns; brookies; cut throats) that are catch-and-release. Tube down our rivers in summer (tubes can be bought locally at the auto repair shops). NOTE: THE VISITOR CENTER is open only during the summer months (approximately May 1 to Oct. 1) 303-823-6622, ext. 26.

Wellness Opportunities: In addition to all the walking and bike trails in the area, visitors can find most of their health needs met in town. There is a full service health food store, Steamboat Mtn., a chiropractor, acupuncturist, massage therapist, nutritionist, physical therapist, and more. There is not a doctor nor a pharmacy. Check the Chamber web site or do an online search for info on these practitioners.

Dog Friendly: Dogs are welcome in Lyons! Most parks in Lyons are pet-friendly, and poop-bags are available along the trails. There is a full-service pet medical clinic, and pet sitting and walking services. Currently there is no an official pet boarding facility. There is a dog park in Bohn Park. Call the Chamber or Visitor Center for more info.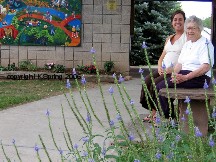 Visitors Center: In Sandstone Park on Broadway is a modern visitors' center with brochurest has brochures and directories, books, videos and maps on Lyons and areas within 20 miles. The staff is very knowledgeable. 303-823-6622, ext 26. It is open only during the summer, generally weekends in May, and open all summer through October 1, and sometimes extended to weekends during fall color season. Clean free restrooms are offered during the day; and a fee is charged for campers vehicle waste dumping.
---
HISTORY INFORMATION and DOCUMENTARIES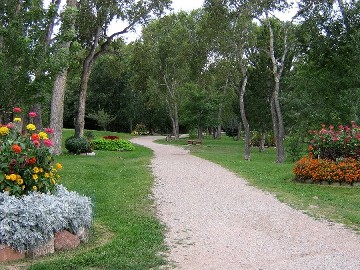 For more information about the Town,
particularly the sandstone history, and
info about three video/dvd documentaries,
and lectures, etc., go to page 2:
Lyons Videos
Plus, see more photos of Lyons.
.
---
---
Become a FACEBOOK FAN ...click below...Get weekly updates throughout the year.
NOTE: There are two boxes below. Click on "like" and "follow."
The pages are updated approximately once a week with new stories, or local history events. An Instagram account was opened for the museum in 2019. Get on our annual Museum Newsletter list by writing lavern921@aol.com.
One is for the "Redstone Museum" and the other is for the Pioneer Stories, called "Lyons History Video Project". Thanks!

.


.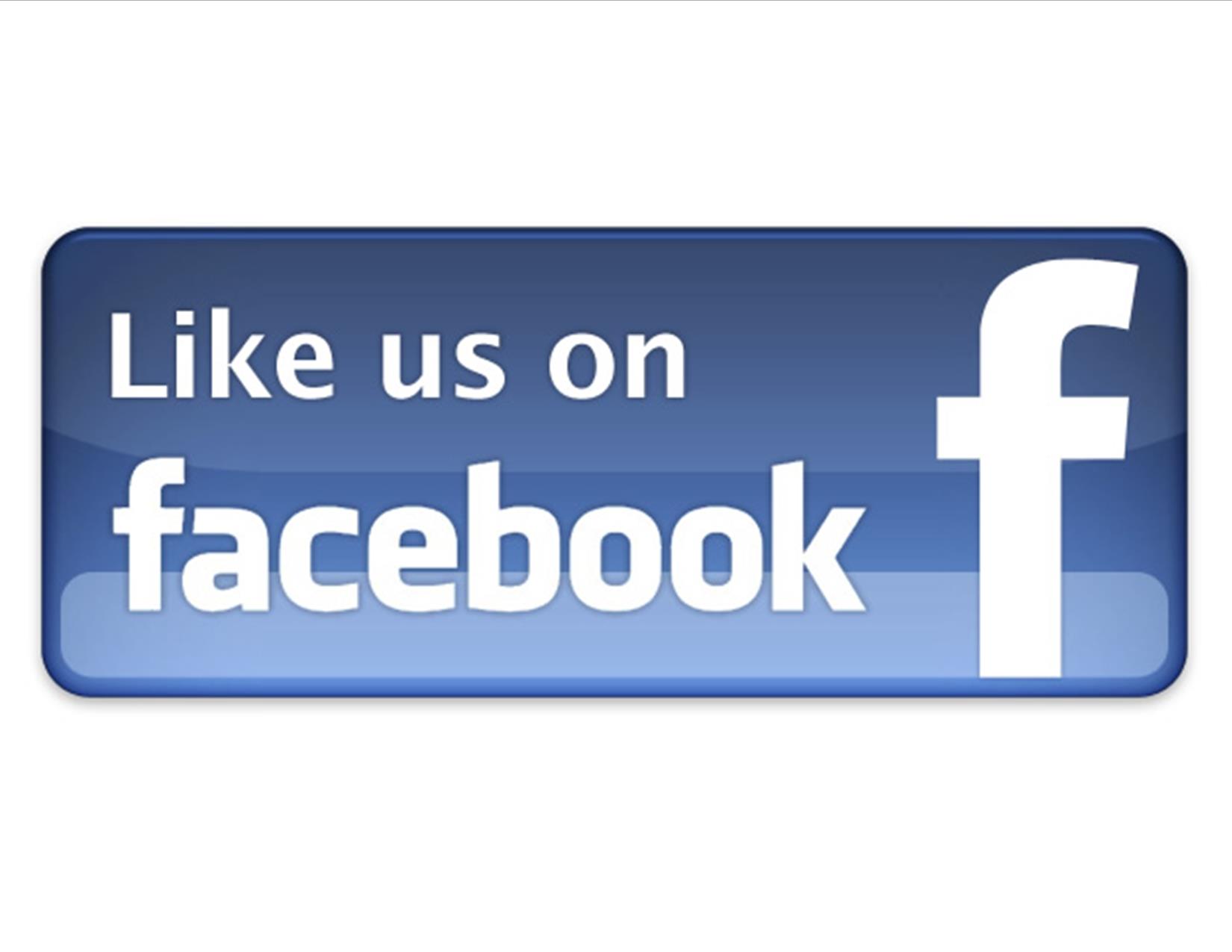 ---
---
---
Visit us at our annual History Community Party Add your Pot Luck dish to our Meal PLUS Speakers AND Exhibits PLUS Silent Auction Read about new events, awards, grants, renovations, activities here:
Calendar of Events

.

---

Major funding through SCFD (Colorado) 1998-2002,
Scientific and Cultural Facilities District.

Lyons Historical Society, LaVern Johnson,
and the Lyons Town Council,
John Ramey (2000-2); and many other generous donors,
The sandstone video (2001) was made possible by additional donations from
Blue Mt. Stone, Loukonen Stone, Western Stone, and Arkins Park Stone.


---


For Video/DVD Documentaries, info:
Kathleen Spring, Project Director, Lyons History Video Project
Email to: ..videos.. @..rockymtretreats ..com
P. O. Box 274, Lyons, CO 80540....303-823-0997...call 10am to 7pm MST only

For Tourist Information

:
Pick up a Tourism Directory at the Tourist Center
Call the Town Hall (303) 823-8250
Town Web Site
Lyons Redstone Museum web site.
Lyons Chamber Web Site Lyons Chamber Business Directory (revised spring 2019)
Boulder County Open Space Programs


Page sponsored by Rocky Mt. Retreats and Workshops.
For more information about Rocky Mt. Retreats
for the Mind & Spirit, go to Retreats
Date last modified: April 21, 2019 (5/17), 9:00 AM

---
Disclaimer – All logos, photos, and original and html text are Copyright © by Kathleen Spring and/or Lyons History Video Project. Copyright 1998-to present year, entire web site. All Rights Reserved. Reproduction or use is prohibited without written permission from owner.. – Documentary Videos are for home viewing, unless written permission by LHVP is given.