Kathleen Spring
Biography – Testimonials – Memberships
---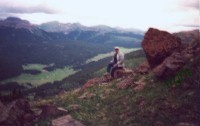 About the Author...
Kathleen Spring considers herself a people person. She loves to talk with people and listen to their life stories. "I like to bring the 'light' out of them; what makes them the special person that they are," she says, "and share that with my readers, so people will know that there are good people out there and good things are happening."
Specializing in human interest stories, Kathleen Spring has written profiles and feature articles for local and major newspapers and a select number of magazines, often accompanied by her photographs; as well as doing "life story" video documentaries. Her video social documentaries and photographs have been shown in Michigan and Colorado and have been highly received. She is currently in Colorado working on her next three books, a movie script, and will be concluding a ten-year video project on "oral histories." She also teaches writing workshops during the summer months at a mountainside retreat.
The Society of Professional Journalist (SPJ) awarded her in 1996 the national Member of the Year award (Howard Dubin Outstanding Pro Chapter Member, a once in a lifetime achievement).
Colorado Press Women Assn. has given her multiple awards for her newspaper articles, photographs and writing instruction book.
As a Journalism student, she was picked to attend the Howard Scripps Leadership workshop at the Society of Professional Journalists headquarters. After publishing the student version of the SPJ newsletter, she was asked to develop one for the Detroit area professional chapter, and to be its editor. She continued to produce it as a professional journalist and was awarded the national award for Best Professional Newsletter.
As a communications student she was also chosen as the Rising Star for the Detroit area region of Women in Communications (WICA), including a $500 scholarship award. Upon graduation, the university chapter awarded her the WICA Leadership award for outstanding chapter and member leadership.
She received numerous academic scholarships. As an Honors student at Wayne State University, on graduation, she received their prestigious Journalist of the Year award.
Kathleen is also a world traveller and has many stories of her solo adventures to share, including memorable photographs, and hand-picked souvenirs. She likes to talk about small towns in the US that she has discovered over the years, while visiting all of the states.
It's easy for listeners and readers to get caught up in her enthusiasm. In addition to being a hard worker who meets her deadlines, her philosophy that "we are all one with the earth" makes her living proof that kindness, positive thinking, and taking time to be in nature can enrich your professional life.
"We are shaped by our thoughts; we become what we think. When the mind is pure, joy follows like a shadow that never leaves."
Buddha, The Dharmapada
---
---
Testimonials:
WRITER/Journalist
"Kathleen Spring's article on the long-awaited (four year!) senior low-cost housing project was thorough and professional. Super job, timely, and loaded with facts." Steve Novak, Editor, Old Lyons Recorder (6/06)
"I read your article last night and was QUITE impressed! You took some difficult, technical information and presented it in an informative yet engaging manner - no easy feat! Great job!!" Gary LaFever, President Lyons Chamber of Commerce, referring to 400 page marketing survey presented to Town. (8/06)
"I love reading and sharing Kathleen's articles. They always seem to start up a conversation or stir emotions. She's a great storytelling and manages to work in a lot of facts into the article," Jennifer Machorlatti, Media/Communications Professor, Western Michigan University
"Wow, Kathleen! You wrote a very succinct, easy-to-understand summary of the Historic Preservation Commission as it stands. Thank you for doing that! I think you're right that it'll be a good resource to have to help fill vacancies." Reyana Jones, Town of Lyons Historic Preservationist/Planner. = as part of a 12 part report on all Town Commissions and Boards for local newspaper. The goal: to write it in everyday language so that town citizens could understand what they do, and to solicit people to fill vacancies. (6/20)
SPEAKER
"Thank you for treating our group to your great outdoor retreat. The lecture on Stress Management was just what we needed. It wasn't too technical, and the clues on how to get our bosses involved when we got back really worked." Judith B.
"I thought I knew everything about my state, but when Kathleen started to speak, and share her endless pile of books and photographs about small towns, my mouth was agape. I had to add her book to our library." Mary J, Oakland County
INSTRUCTOR
"We arranged to have Kathleen teach a writing class at our book store. My front clerk could hardly keep his mind on his work, as he eaves dropped on the exciting lessons and unique methods she used. The students seemed exhausted and yet elated when they left, and some are regular customers after the experience." Fiona, Estes Park, Old and Fine Books
"While I have found Kathleen to be a fountain of information, it is the manner in which she teaches that makes her an exceptional teacher. She shares with her audience her joy of life and her enthusiasm for teaching, whether it is travel tips or writing clues. My librarian administrator told me that she could tell which classes people liked best because they would leave the room smiling and talking, and that's certainly what they did when they left her classes." Orlando Hodges, Community affairs, Troy Public Library.
MOTIVATION/COACHING
"Kathleen (helped us) launch our new company in a competitive market. (She) went above and beyond the call of normal duty and actively supported all activities of the new company (using her) expertise to promote it. She has a heart for good business and a dedication." Linda F. Berry, co-founder of Women 2 Women.
"You've changed my life. I am now working with troubled pregnant teens (but then you knew before I did). The Mission statement we had to write up really clarified things for me. My husband thanks you too." MaryLou S.
EDITING
"I just finished incorporating nearly all of the edits and suggestions for my book. I loved your suggestions and catches. You caught a lot of small things that no one else did and many subtle changes and suggested clarifications that helped a lot. Thanks a bunch!" Judi B (Colorado Press Women)

---

---

---

Memberships

Spring is or has been an active member the following organizations over the years: SPAN (Small Publishers) --- CPW (Colorado Press Women) --- NFPW Natl. Federation of Press Women --- CAL (Colorado Author's League) --- DFS (Denver Film Society) --- SPJ (Society of Professional Journalists) --- AWC (Women in Communications) --- Women Writing the West --- UFVA University Film & Video Assn. --- ...in addition to numerous local writing groups, book clubs, school writing tutor, and other artistic endeavors, some of which she worked as a director or officer.

For more information, visit these web pages. Remember to check out their resources pages and job pages: www.SPJ.org //==Colorado Independent Publishers, www.CIPAbooks.com == www.ColoradoAuthors.org == www.DenverWomenPressClub.org == the American Society of Journalists and Authors www.asja.com == Small Publishers of America, www.SPANnet.org

Society of Professional Journalist:
See SPJ National annual Conference for list of speakers; chose between workshops and professional development lectures. Mission:The Society of Professional Journalists is dedicated to the perpetuation of a free press as the cornerstone of our nation and our liberty. To ensure that the concept of self-government outlined by the U.S. Constitution remains a reality into future centuries, the American people must be well informed in order to make decisions regarding their lives, and their local and national communities. It is the role of journalists to provide this information in an accurate, comprehensive, timely and understandable manner.

Colorado Authors League , celebrating it's 80th anniversary. The state's premier organization of independent, professional writers. Attend their monthly lunches, featuring published writers or companies supporting independent writers' success

The Denver Press Club is one of the oldest Press Clubs in the country (founded in 1884). It's also the longest continuously operating Press Club in America. A great buffet lunch offered several days a week, for journalists to gather and talk. Check out their web site for numerous media-related events, from small group discussions to large group events. The annual Damon Runyon Award Banquet features a renown speaker and silent auction items. Stop by during the "press celebrity bartending" events. Membership is around 400 people. Denver Press Club, 1330 Glenarm Place, Denver, CO. (303) 571-5260

Colorado Press Women is an affiliate of the National Federation of Press Women, was founded in 1941 and incorporated in 1962. NFPW was founded in 1937. CPW meets several times during the year. CPW is a diverse organization of professional communicators, who are reporters, editors, broadcasters, public relations practitioners, publishers, advertising and marketing professionals, college communications educators, graphic designers, photographers, freelance writers and authors. They also have a "creative writing" group that meets once a month to do critiques, which was co-founded by Kathleen Spring. Mission — CPW promotes the highest ethical standards, foster exchanges of journalistic ideas and experiences, offer continuing educational opportunities, and serve the public's right-to-know.

Who's Who: Spring is listed in the Marquis Who's Who of America, Who's Who of American Women, and Who's Who of the World, since 1993/1999 to present.

---

---

---

Return to Main "Author" page

---


Kathleen Spring
Spring Times
P. O. Box 512
Lyons, CO 80540-0512
303-823-0997 call 11am to 7pm Mountain MST
kathleen.spring@ yahoo.com
Date last modified: July 1, 2020


---

Disclaimer – Copyright 1998-2020: All logos, photos, and original and html text are Copyright © by Kathleen Spring. All Rights Reserved. Reproduction or use is prohibited without written permission from owner. – All prices are subject to change at the reasonable discretion of the owner.